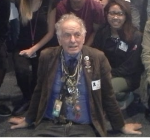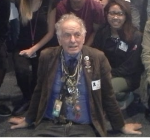 By Emily Rios
Lowell, MA –  Anxious. Excited. That's how I felt as I participated in my first poetry slam.  
It's basically a recital but better known as a jam or slam to other writers.  I had an idea of what to expect but I felt a positive tension rise as the contestants and audience filled the room.
The Kerouac slam requires students to write two original pieces of literature -poetry, prose or short story- and recite them to a panel of judges at the Burgoyne theater in the Freshman Academy.
This event commemorates the life of Kerouac, LHS alum and the most famous Lowellian writer, who lived way before his time and defined the Beat Generation.  As a Beatnik, Kerouac was anti-establishment and nonconformist.  
When Americans were buying mass produced cars and appliances, Kerouac was questioning a throw-away culture.  In his prose and poetry Kerouac and his fellow Beatniks challenged the idea of the American dream, where owning a house, a car and and washer machine defined success.
Jack's work consisted of novels and poetry. While this year was specifically important because it marked the 60th anniversary of Kerouac's On the Road, the contest is held annually, and is open to every Lowell High School student.
Top three scoring poets of the contest receive $250, $150 and $100, respectively. The appeal of cash prizes, and more importantly the experience gained from the event, encouraged me to submit my entries.  And it was well worth it.
When I arrived to the dimmed theater, I was informed that I would be going first.  In my inner voice, I said to myself, "What? Great!"  That's when I began to feel the nerves, but after some internal self-motivation and external reassurance from my friends, I felt excited. Besides, I wasn't participating to win anything only to share my voice and creativity with others.
The poem I chose to recite for round one was centered around over thinking, something I do constantly. It's probably one of those idiosyncrasies most young people experience at some point.
The concept that I was trying to get across was how over analyzing every single situation could actually promote a negative mentality. I began to dislike this poem the more I read it, because I feared that the poem transformed into a mess of tangents going nowhere. But maybe I was giving it too much thought! Regardless, and to my pleasant surprise, I advanced along with nine other poets to the second round.
David Amram, a personal friend of Jack, spoke during the intermission between rounds one and two. Many of the LHS students that participated in the contest previously, knew him from his performances in years past.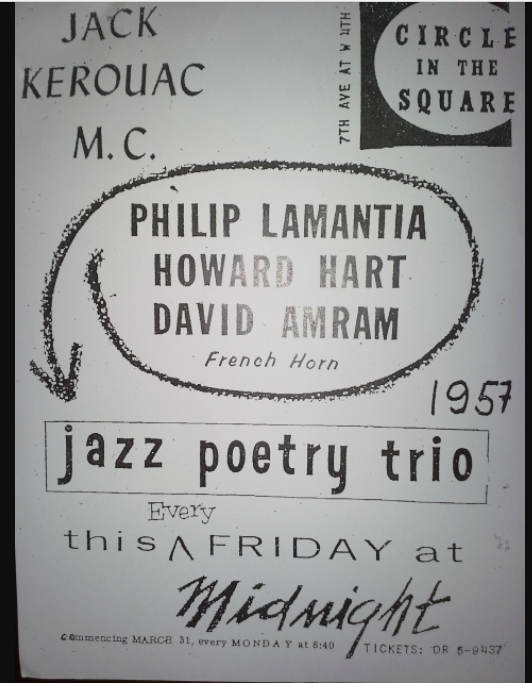 Amram is a world-renowned composer, improvising musician and promoter of poetry and writing. Like a true friend, Amram has annually attended this event, along with other Beatniks, commemorating their pal Jack's life.  
During the contest, Amram spoke to the audience about the importance of the preservation of creative spirit.
As we waited for the judges to return, my confidence in my second poem plummeted. A common trend that I noticed with previous experiences was that poets tended to recite a more personal poem, mine being a prime example.
My poem centered around the current condition of my family life, causing the source of my apprehension. I sharing some pretty personal feelings.  
Reciting poetry is half the words you say, and half how you say them. I felt that my poem may have lacked in writing quality, so I tried to compensate in terms of performance.  I stressed certain words and changed tempo to match the change in moods in my poem. Then, the judging time arrived.
Despite my scores falling short of the top three, I was proud of myself for having the courage to go up, share one of my creations and do something I was passionate in. I paused and felt a sense of relief and satisfaction.
The first, second and third place winners- Mablean Ntoro, Willow Kelley, and Pearl Ojinka respectively- all performed wonderfully. These poet laureates received the accolades of making the top 3 and the monetary awards.
For qualifying for the top ten, I received a free copy of Kerouac's On the Road, and in addition to the top three winning cash prizes, they also received the book, as well as a collection of poems by Kerouac. I didn't win any money, but the experience was priceless.
I will definitely be participating next year to continue on the road of creative preservation as Beatnik Amram talked about.    I also hope that others are encouraged to go and share their 'creative spirit' during their high school days.
[This story was edited by the Adviser on Nov. 2, 2017 to add images from archives and make minor copy edits]