The danger of using headphones and other listening devices while crossing the street.
Venice Cooper, 18, was born in Monrovia, Liberia. She is a senior at Lowell High School. Venice enjoys shopping and doing outdoor activities. She is hoping to go to college to become an accountant.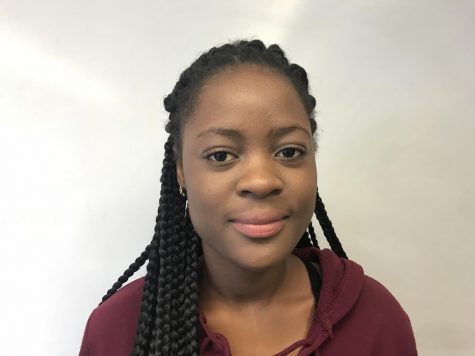 By Venice Cooper
Last week, a group of students were crossing a very busy neighborhood street wearing headphones. They were almost run over by a truck.  They didn't see the truck, but just as importantly, they could not hear the truck. We are aware of the dangers caused by using cell phones and other listening devices while driving a car, we also need to look at the dangers of using cell phones while crossing the street.
Between 2000 and 2011, there were an estimated 11,000 injuries to distracted pedestrians using cell phones, according to 2015 data from the National Safety Council.
Moreover, between 2014 to 2015 and between 2015 to 2016 there were 9% and 11% increases, respectively, in pedestrian fatalities on U.S roadways according to the Governors Highway Safety Association. According to the new nationwide study by Ohio State University, approximately 1,500 pedestrians were treated in emergency rooms in 2010 for injuries related to using a cell phone while walking. Teenagers today are getting distracted by calls, but also, text messages, snapchat images, and music. We as teens want to reply quickly and end up paying more attention on our phones than our surroundings.
What are we doing about this? There are several cities, counties and states, including Chicago, San Mateo County, New York and Honolulu, that are considering laws that would bar pedestrians from using cell phones in crosswalks. If pedestrians are caught using a cellphone and other listening devices there would be fines with the range of $15 to $500.
This is an issue that should claim the attention of the national government, cities and school administration.
Here at Lowell High it would be helpful to discuss this issue during advisory, talking with students about taking precautions.  We could also include these tips on the morning Raider report. It would be important that we talk with students about walking safety rules and the dangers of texting or talking on cell phone or listening to loud music while crossing a street.
We are losing focus on our surroundings and putting our safety, and the safety of others at risk. The problem is particularly happening among teens, because we are often so addicted to our phones — we are always texting while walking and it takes away our ability to be alert.  Putting the phone aside while crossing the street for a few minutes means a lot, because others' lives are involved.
Ms. Cooper wrote this opinion during her studies with Social Studies Teacher Ms. Jessica Lander.
LHS Review Copy Editor Owen Goulette prepared graphics, proofread and edited this opinion.