Dougall delivers bolder sound
Music Review of Stellular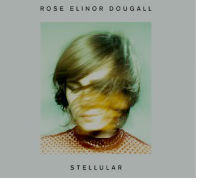 Hang on for a minute...we're trying to find some more stories you might like.
By Mali Woodward
Staff Writer
British Indie-Pop Musician Rose Elinor Dougall released her first album in seven years, "Stellular," and it's her most polished and bold work yet.
"Stellular," recorded under Vermillion Records, has a mix of groovy bass lines, standout synths and jangly guitars.
Dougall's dreamy vocal performance proves her as one of the most underrated female artists in the whole scene.
Songs range from pretty guitar oriented tracks with soft vocals to hard hitting lead synthesizers that could be heard at hip dance clubs. With all this, the transitions manage to be bordering on flawless.
Dougall's first solo album, the 2010-release "Without Why" feels lifeless compared to "Stellular". The honest lyrics and catchy melodies were there, but everything about that album feels so passive. Whereas "Stellular" is groovier, it's poppier, it's better produced, and it's effortless enjoyment.https://www.youtube.com/watch?v=2sQokf-ug3I
Not one of the twelve tracks on "Stellular" feels like filler and could all be chosen as lead singles. Nevertheless, this isn't a collection of singles, it's a strong, cohesive album with a recurring theme of space and what's beyond us.
 "I want a love to lift me up high, to wreak havoc on this heart of mine, tear me limb from limb until I find some kind of space to be," Dougall sings from her heart.
The guitar lick in the first few seconds of the first track, "Colour of Water," will immediately draw you in and once the drums and Dougall's mesmerizing voice kick in, you're already hooked for the rest of the album. The punchy drum kicks keep you swaying back and forth for its entire duration, even during downtempo piano-led tracks like "Answer Me."
In the seven year absence of her last album release, it's clear she put incredible care into the output. From a technical aspect, there's no problem with the production and everything sounds quite clear and pronounced. Rose's touring and recent collaborations with producer giant Mark Ronson may have had an influence on production that sounds so grand yet so concise.
Stellular is an album that reels you in and keeps you listening. It's in your face. Rose won't let you forget you're listening to her album, and she'll make you want to listen to it again once it's over.
Before breaking off into her solo career, Dougall was a member of The Pipettes, a 60s Phil Spector-esque type of girl group that meets Spice Girls levels of character and spunk. For those nauseated by the twee and almost too catchy hooks of the Pipettes, look no further than Rose Elinor Dougall.
She cites influences from The Smiths to PJ Harvey to Fleetwood Mac. The sounds of the British music scene from past and present are there with even Oli Bayston, also known as Boxed In, co-producing the album and featuring with Rose on the track "Dive."
"Stellular" has this classic 80s sound while still sounding very fresh and modern.
The only fault is the lyricism feels secondary to Rose's voice being just another pretty layer of music. Rose's lyrics and music feel much more mature and refined than anything she's ever worked on. But "Stellular" feels like an album that focuses strongly on how it sounds and how it feels. The lyrics don't stand out at you, but are rather a hidden layer of meaning under the punching music.
"I wanted to make a less insular record than my first one, one that had more spontaneity and confidence, was bolder, and more outward looking," said Rose in an interview with Drowned in Sound on January 6th.
Overall, "Stellular" is definitely an album to keep on your repeat playlists. In an oversaturated synth-pop revival scene, Rose Elinor Dougall delivers great music that's a cut above the rest.
-30-