The Festival of Lights: From My Diwali to Yours
Diwali, known as the 'festival of lights' by many, is the most popular holiday in India and for Indians living all over the world. It marks the start of the Hindu new year, which falls in the month of November this year, and is observed as one of the most important holidays. Similar to how Christmas is celebrated by the majority of Americans, regardless of their belief, Diwali is celebrated by everyone in India. They could be Muslim, Christian, Buddhist –  or any other religion you can think of, everyone seems to enjoy Diwali and make the most of the occasion.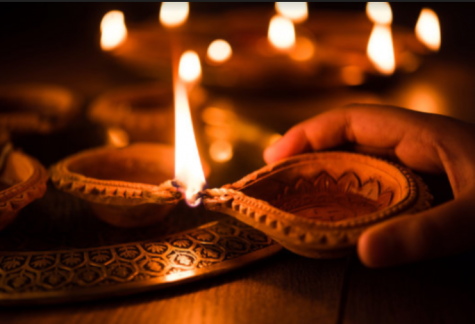 Although it is celebrated by a diverse group of people, Diwali is mainly a Hindu holiday with a rich history behind it. The festival originated from an event in Hindu mythology, when Lord Rama had defeated the demon king, Ravana, and returned back to his kingdom after 14 years of exile. He was a prince and upon his return, his subjects had celebrated by lighting diyas, or oil lamps, as it was the day of the new moon and they wanted to light up the pitch-dark night.The diya is lighted and used to decorate homes as it symbolizes the victory of good winning over evil and is considered a symbolic element of Diwali. 

Apart from lighting diyas, there are many other festivities that people take part in, one of which is making the rangoli. Rangolis are intricate, patterned designs created with colored powder and/or flower petals, on a flat surface. Not only do they look amazing and add to the decor but they are also super fun to make! Early in the morning, women and young girls get ready and gather in the courtyard to make rangolis, having the time of their lives. In our case, New England weather does not approve of this, so we just make them inside our homes, cherishing the beautiful memories being dusted on with every speck of color. These rangolis are made to welcome the goddess of wealth, Laxmi, and other guests into our homes and fill them with happiness and prosperity.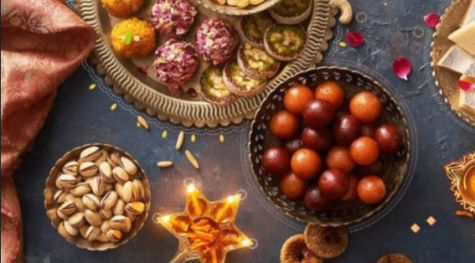 As the New Year approaches, people start cleaning their homes. And by cleaning, I mean deep cleaning, so that our homes are purified and ridden of past impurities for a fresh start the next year. Once the house has been scrubbed squeaky clean from top to bottom, the real fun starts- FOOD!. 
Several different snacks and sweets are made and, for a few weeks, everyone forgets about their diets and weight-loss plans and indulges in delicious, homemade, Indian food. Some of these scrumptious delicacies that can make even the best of desserts go meager include: 
Gulab jamun

:

(My favorite!), soft, fried golden balls dipped in sugar syrup.

Kaju katli

: A dessert made from cashews and milk, characterized by its diamond shape and cover of edible silver.

Kheer

: A pudding made by boiling milk, sugar (or jaggery), and rice, and is topped with chopped nuts and cardamom.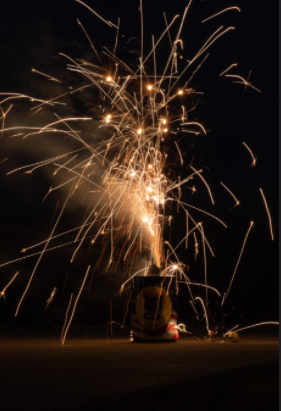 After diyas, one of the most popular things during Diwali, are firecrackers. The day may be over, but the fun still awaits. As night falls, everyone can be found in their courtyards lighting sparklers, setting off different types of firecrackers (we could take a whole day just to discuss those), and spending some quality time with family and friends. Like the diya, fireworks symbolize the triumph of light over dark, good over evil, and simply are a way to have fun and enjoy the holidays. However, with the increase in global warming and the pollution level in India specifically, people have nowadays started to refrain from lighting firecrackers. The smoke emitted from them, and the plastic and other material that is left over after they are burnt, are harming the environment. Luckily, people have started to realize that and are now finding other ways to celebrate Diwali and have as much fun as they would have had if they were doing fireworks and killing people's ears (trust me, you do not want to be woken up at 1 am by noises of fire-bombs bursting open).
Not trying to differentiate genders here, but generally speaking, fireworks are more on the 'male side' when it comes to enjoyment. On the other hand, women tend to find enjoyment in going shopping (not me though- too tiring). In India, Diwali is when you will find the most sales going on in stores, the majority of them on clothing, which is pretty convenient, as Diwali is that one time of the year, besides weddings, when you get to dress in your new, best traditional Indian outfits and admire your rich culture. On the downside though, for those of us who don't live in India, we don't get as many Diwali discounts or days off from school, so our Diwali usually lasts a month, celebrating on the weekends. We get together and spend time with our friends and family, have fun, eat food, laugh, dance, and obviously, show off our new Indian clothes and jewelry (as I'm doing right now).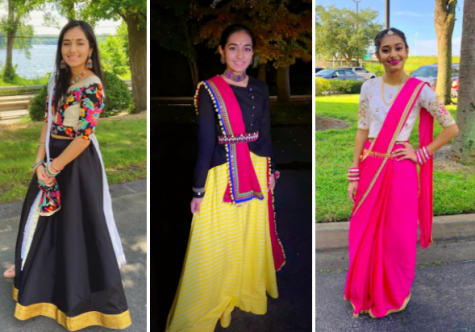 Celebrating different holidays from different cultures doesn't separate us from one another, but brings us together. The whole point is to have everyone join in and celebrate the things that we share, not highlight our differences. Overall, Diwali isn't a whole lot different from holidays like Christmas and Thanksgiving, which more people are familiar with here in the US. The main idea is for us to forget about the past and begin with a fresh start, thankful for our family and relationships and what we have with us now. The only difference though is that our food is a lot better.