Unified Basketball Undefeated!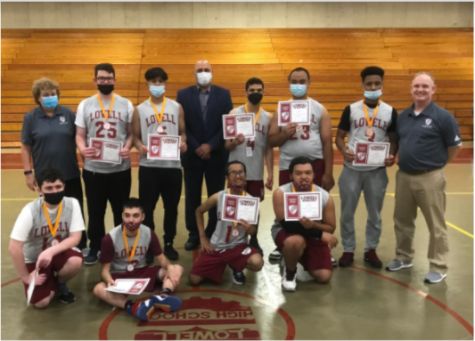 LHS Pride is at a high as our school's Unified Basketball team finished the season undefeated with a score of 6-0, earning the title of league champions. Unified Basketball is a varsity sport that has been offered in our school for the past four years. It provides a great opportunity for students with special needs to be able to participate in an activity that they would normally not be able to take part in. Aside from LHS, there are ten other MVC high schools and 118 other schools across the state that also offer the sport.
Unified Basketball pairs students with special needs and general education non-disabled peers as partners to help support them in learning the sport of basketball as well as vital social skills they may not learn inside the classroom. Partners are generally referred to as the general ed role models, while the Unified students are the players. The team practices and plays together just like all other varsity programs. During the game, three players and two partners make up the five required players in a basketball game. The games have a very uplifting atmosphere. They are a real happening, often with cheerleaders, band members, and enthusiastic spectators – other sports teams, teachers, administration, and parents among them – cheering the team on. 
The coaches are Mr. Rapone and Ms. Newcomb. They work very hard to teach positive social skills, leadership expertise, and fitness tips to the players. This year's team was gifted with some amazing partners, such as:
Jeter Santiago
Alex Chau
Andrew Blaschke
Evan Blaschke
Stella Procope
Pearl Kalungi
Several of them play on our school's Boy's and Girl's varsity basketball teams in the winter season. Marcus Yera, the team's leading scorer, and his strong offensive cast of Tony Mom and Sam Field help the team average over 40 points a game! Pretty incredible, right? Tommy Muth and Daniel Rivera-Agosto were also greatly improved players on this year's roster.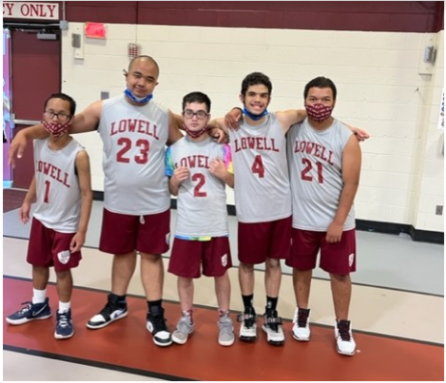 Doesn't it feel awesome when you really work hard to achieve something and you actually reach that goal? In simple words, it's called winning. But do you feel as awesome if you lose? Probably not. Not being able to succeed in doing something, whatever it may be, can be disheartening. Just as winning a game would boost your morale, losing can lower your confidence. However, Unified Basketball does not truly weigh itself in wins and losses, but it values acceptance, understanding, and simply having fun. Through the inclusive nature of the events, all parties involved gain valuable respect and understanding for each other's strengths and individual values. 
Congratulations to the team for their big seasonal win! Continue to make Lowell High School proud, and keep on riding "the big bus", as our players like to call it.