Pipe burst at Lowell High School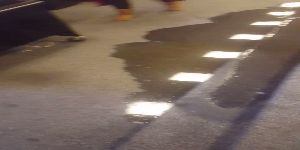 Hang on for a minute...we're trying to find some more stories you might like.
By Vattara Heng
Staff Writer
https://vimeo.com/208181903 (video by Chhanraksmey Chhoun)
Lowell, MA- At approximately 1:45 p.m. at Lowell High School, there was a water pipe burst in the Chorus room 026 located in the basement of the 1922 building.
No students or staff were harmed by the burst or flooding. Custodial staff arrived minutes later to turn off the water and begin the clean up.  
Reports of the Band room and the Dance rooms also having leaks from burst pipes were unconfirmed.
Earlier in the day, the basement of the older yellow building known as the 1922 building was excessively cold throughout the morning, according to students.
After the day went on, the pipe burst from the ceiling of the Chorus room. The cause of the burst pipe was unknown but many students believed extreme cold temperatures may have contributed to the incident.
Water began pouring out of the ceiling at the beginning of the 7th period at 1:45 p.m. but was quickly shut off by 2:00 p.m.
There was no immediate estimate of damages caused by the resulting flood.
(Originally published at 2:45 p.m. on March 13; updated at 7:47 p.m. March 13 with additional information)